Kennel
vom SEEBENSEE
Tripol's Rapshody in Blue - Rapshody (1979)
Tripol's Never Mind - Judy (1981)

The kennel is small without any outdoor kennels, but surrounded with lots of love and attention. They live with us in the house and share the complete harmony of our home. Every day our cockers run freely in the woods and chase rabbits and pheasants. They love water and dirty ditches!
We think this is the way all cockers want to live, and they confirm this by giving us so much unconditional love.
The litters that are born here, grow up in the house too,were they are completely socialised with normal live in a house. A veterinary surgeon calls 3 times to have a look at the litter and gives them the vaccinations they need.
__________________________
Our bitches are tested for PRA, Cataract and we also hip score to conform to the rules of the Dutch Spaniel Club. Of course the sires of our litters have all the same tests. Vom Seebensee's kennel has just blue roan cockers, however, there is a possibility that orange roans may also be bred.
__________________________
We often visit international shows. This year we made up our first Dutch Champion: the lovely Tripol's Its Mable, after she had her first litter 4 months ago. We are so very proud, because it is not easy to accomplish realise such an achievement! At the age of 13 months,Amberly Hazel, our home bred bitch, won her first CAC at the international show in Goes, Holland in 1999.
__________________________
But one of the important things is the golden temperament of our cockers!! They really never have a fight or even the smallest quarel. Nobody is the leader.
__________________________
Often we go to Ehrwald in Austria, to the mountains and of course to the lake "Seebensee", where our two first cocker lady's lived their lives in this beautiful country. The lady's were, Rapshody a daughter of Dutch Ch. Tripol's Funny Faisal and Judy a half sister of Dutch Ch. Tripol's Dream Light (both are featured in the photographs on this page!!). They reached the age of almost 13½ years in very good health, they were our first cockers and we will never ever forget them!!

| | | |
| --- | --- | --- |
| | in loving memory Judy and Rapshody | |

I wish all visitors a lot of pleasure in watching this Seebensee site !!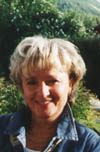 "Monique"
This site was created in good faith !! It is for your information and enjoyment only, and as such!! Please if you do find any errors in this Website, could you please contact me, so I can rectify them as soon as possible. Most of all I have written with my Schoolenglish !!

We would like to invite you to take a look at the second "Heimat" of our cockers, where many other cockers have passed good times. Every season it has its own view. Tirol is a country to love, with its free nature and clean waters! You find the link to Ehrwald on the linkpage !!

EHRWALD/TIROL

| | | |
| --- | --- | --- |
| | Litters | |
| | | |



seebensee copyright 2000 - 2003 ©