PUPPIES !!
Amber and Blue - the F litter

28 of December 2001
The first litter of Amberly Hazel vom Seebensee has been born !! A very special moment because Amber has been born at the same warm place, as her own pups now, for 3½ years ago !!
They all are blue roan, 2 girls and 4 boys !! The father of the litter is Alisma Highlander, who is also the father of Claire !! His nickname is Blue !!
Please your welcom to visit this F-litter to see growing, which I will reported with pictures every week, enjoy this little cockerworld !!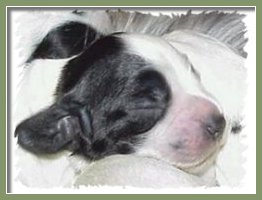 A two days old puppy, watch the ears and eyes which are closed!!


Week 1 Week 2 Week 3 Week 4 Week 5 Week 6