Grooming an English Cocker Spaniel is almost a special handicraft work, which not every groomingsaloon can do !! So inform your breeder for an address in you neighbourhood !!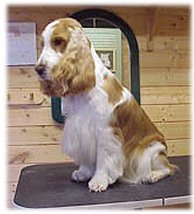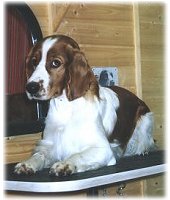 WELSH SPRINGER SPANIEL
A sterilized cocker gets a metamorphosis, which looks like if several years has been gone !! The fleece cannot be trimmed as usual anymore !! Therefore please take your information carefully "before" choosing a bitch or a dog, because if it is not medical necessary, you can be very sorry for it !!
A Sterilized Fleece

This is Kari, just 3 years old !! He is coming into the saloon for every 10 weeks !!
GROOMING SALOON "DE COCKER"
anna van burenstraat 72
3136 CH Vlaardingen / 010 - 474 89 87
HOLLAND
Registered with the Chamber of Commerce at Rotterdam